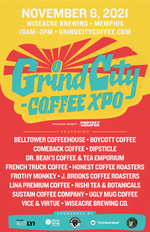 This Saturday at Wiseacre Brewing we'll be participating in the annual Grind City Xpo. It's an annual gathering we are pumped to be a part of as it is a celebration of the culture in and around coffee! 
Grind City Coffee has been hosting it's Xpo for the last 3 years, highlighting the people and passion in and of the coffee community. By hosting social events that are inclusive, educational, and craft centric their goal is to foster community over competition. 
With tons of local coffee houses, specialty roasts and blends of beans come "grind, sip, repeat" your way through the Xpo with the Memphis coffee community. There will be tips, tricks, techniques and latte art galore.
We will also be sharing the event space with another exciting event - Fieldaze, who will be using Wiseacre as their hub for their 3-day adventure-centric event. For more information about their event checkout the Fieldaze Website. 
For more information about the Xpo checkout the Grind City Coffee Website.
Proceeds of the Xpo will benefit Protect Our Aquifer. 
You can purchase tickets (for different times and price points) here.
The Xpo is on Saturday November 6, 2021 from 10 am - 3 pm located at Wiseacre HQ 398 South BB King Blvd. Memphis, TN 38126. We can't wait to see you there!