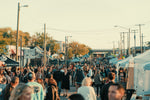 Thank you for supporting us at the 5th Annual Light The Nations Festival that took place Saturday, October 16. A day of fantastic weather, over 10,000 people gathered on 51st avenue of the Nations Neighborhood in Nashville to enjoy a day filled with festivities with a community focus.
The celebration brought with it live music, fire dancers, food trucks, craft vendors, luminary bag decorations and more activities for all of us to enjoy. It was a wonderful day to honor the nations best, and salute the community in which we thrive. 
We are proud to support and be supported in this event for and by the Nations community. We loved gathering with our neighbors to give back with games, giveaways and prizes and we are thankful we got to have such a good time with all of those who stopped by. 
We look forward to seeing you next year at the 6th Annual Light The Nations. Till then.