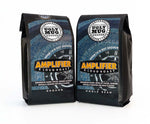 Introducing Ugly Mug's newest addition: Amplifier. When 10 is not enough, turn the volume up past 11 with our latest brew. A bold Indonesian blend that will make your taste buds dance.  
Inspired by the strongest among us, our Coffee Roasters set out to create a coffee that could compete with the likes of our boldest beans (think Ugly Mug's Think Big). Our head roaster and his team got together for some Coffee Cupping, or Coffee Tasting, where they taste-tested small batches of sample roasting they did to begin the journey of finding the perfect combination. If pressure creates diamonds, roasting coffee creates delicious inspiration. They had to fine tune the flavors through the arduous process of finding the taste of each bean, pairing them appropriately and then roasting each to later blend. They sourced beans from Guatemala and Sumatra Island, then began experimenting on the roast.  
We all want to be at our best when facing the world and coffee beans are no different. Before coffee beans are finished roasting and ready for your morning brew, they have to go through the process of Bean Development. This process is crucial for flavor and aroma creation during roasting. Coffee beans, technically, begin developing once they enter the roasting drum and continue developing to the moment they are ground and added into water to be brewed. Early chemical reactions create a foundation for the Development Phase, which for roasters, begins at what's called the First Crack. The pace of your roasting determines the coffee's profile from the First Crack where different flavor dimensions will emerge. In our case with Amplifier the flavors our roasters were looking for emerged between the First and Second Crack.  
Because of this process our team of Coffee Roasters were able to create this Indonesian blend which has a bold flavor and features notes of Cocoa and Smoked Almond. Not for the faint of heart, Amplifier is for those of us that need motivation in the form of a cup to wake up and feel alive for the day. With its bold, strong, full body and rich flavor you'll be ready to handle whatever life throws at you. Grab a bag today and see what you can take on.