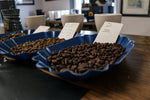 Our newest Rare Origin coffee hails from the Mt. Elgon region in Uganda. The beans themselves come from surrounding farms and are meticulously graded and certified organic.
Uganda has been investing in elevating the quality of their coffees for years and it is beginning to pay off in a big way. Bordering Kenya, Uganda coffees are high grown and share some of the notes from Ethiopian and Kenyan coffees, which are known for their wine-like acidity and complex fruit tones.
This particular coffee is characterized by a silky body and hint of acidity in the finish. The flavor profile has an herby complexity punctuated by flavors of brazil nut and lite citrus. The aroma is a mild high note of stone fruit. 
This coffee stands alone as a great addition to your morning routine, and will leave you feeling light and bright to start the day! 
Link to buy: https://ugmcoffee.myshopify.com/collections/regular-coffee/products/rare-origins-uganda